GRETCHEN
Obentrautstr. 19-21
10963 Berlin - Kreuzberg
Tel: +49. (0)30. 259 227 02

Wir verwenden unterschiedliche Email-Adressen für die verschiedensten Belange.
Bitte unbedingt an die entsprechende Email-Adresse wenden...
We use different email addresses for various topics.
Please use the right one...
ALLGEMEINE ANFRAGEN ZU VERANSTALTUNGEN SOWIE MIETANFRAGEN:
General questions and rental inquiries:
gretchen (at) gretchen-club.de
ANFRAGEN VON KÜNSTLERN, LABELN ODER AGENTUREN (KEINE MIETANFRAGEN!):
Booking requests (ONLY artists, labels, booking agencies, NO RENTAL INQUIRIES):
booking (at) gretchen-club.de
DU HAST ETWAS IM CLUB VERLOREN?
You've lost something at the club?
lost (at) gretchen-club.de

MINDESTALTER
Einlass zu CLUBveranstaltungen (u.a. alles, was ab 22 Uhr oder später beginnt) ab 18 Jahre! Keine Ausnahmen! Keine Muttizettel o.ä.!
Einlass zu KONZERTveranstaltungen (alles, was vor Mitternacht zu Ende ist) ab 16 Jahre! In der Regel keine Ausnahmen, keine Muttizettel o.ä.!

MINIMUM AGE
Minimum age for admission at CLUBNIGHTS is 18 years (all events from 10pm or later!)! Without exception!
Age restrictions for CONCERTS or events, which end before midnight: 16 years! Generally no exceptions, no supervision forms ("Muttizettel").
BARRIEREFREIHEIT
Unser Mainfloor, Box1, ist quasi barrierefrei. Unser Haupteingang hat zwei Stufen, aber wir haben eine mobile Rampe dafür.
Innen gibt es noch eine kleine Stufe von ca. 5 cm neben der Bühne. Dafür gibt es bei Bedarf auch eine Rampe. Die barrierefreie Toilette befindet sich hinter der Bühne. Am Einlass einfach nach dem Schlüsselprocedere fragen.
ACCESSIBILITY
We are wheelchair accessible (Box1). For the two steps at the entrance there is a mobile rampl available. Inside there is a small step of about 5 cm next to the stage. There is also a ramp if required. The wheelchair-accessible restroom is located behind the stage. Just ask at the entrance for the key procedure.

public transport:
U1, U6, U7 (Mehringdamm, Hallesches Tor)
Bus 140, 248, N1, N6, N7, N42, M19, M29, M41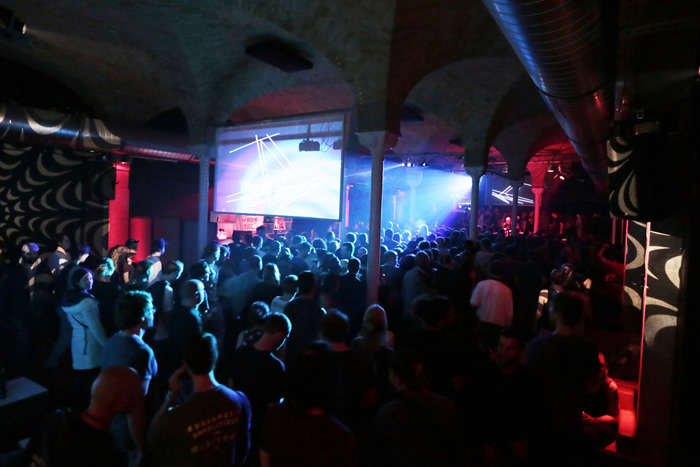 CORONA +++ TICKETS
Wegen der Corona-Pandemie sind in der Vergangenheit viele Veranstaltungen entfallen oder wurden verschoben. Nach wie vor haben wir keine Planungssicherheit. Veranstaltungen können daher kurzfristig stattfinden oder abgesagt werden. Bitte entschuldigt diese Unannehmlichkeiten.

Eine Übersicht über alle pandemiebedingt entfallenen bzw. verschobenen Veranstaltungen findet Ihr hier.

Tickets von verschobenen Veranstaltungen behalten ihre Gültigkeit oder können dort zurückgegeben werden, wo sie gekauft wurden (nicht bei uns! Alle Gelder liegen bei den Vorverkaufsstellen!).
Wir haben uns gegen die Gutscheinlösung entschieden, weil wir finden, dass Ihr selbst entscheiden können sollt, ob Ihr Eure Tickets behalten möchtet oder ob Ihr sie zurückgeben müsst.

Wenn Ihr uns Euer Ticket gern spenden möchtet, dann behaltet es einfach und gebt es nicht zurück. So helft Ihr uns, unsere Fixkosten zu bezahlen, solange wir geschlossen bleiben müssen.
--------- english version ----------
Due to Corona many events have been cancelled or postponed. Planning is still not possible. Events can take place at short notice or be cancelled. We apologize for the inconvenience.

You can find an overview of all events canceled or postponed due to the pandemic here.

Tickets of postponed shows remain valid or can be returned where they were bought (Not through us! All money is with the presellers!).
We did not follow the voucher-system, because it should be up to you, if you like to keep the ticket or if you need to return it.

Nevertheless: In case you like to donate your ticket, just do not give it back- Just keep it. We will recieve the money from the donated tickets a little later. This money will help to pay our bills during the club-shutdown.