Hygienekonzept - KLEINSTKONZERTE - Open Air @ Gretchen Yard
(english below)
Der Virus SARS-CoV-2 zwingt alle Menschen zu besonnenem Handeln und fordert Verzicht auf körperliche Nähe. Es gilt "social distancing". Dies führt zu extremen Einschnitten beim Durchführen von kulturellen Veranstaltungen.
Seit März 2020 sind Musikspielstätten und Clubs bis auf Weiteres geschlossen, um das Ausbreiten der Pandemie zu verhindern.
Da nun Veranstaltungen unter freiem Himmel unter Einhaltung von Abstands- und Hygieneregeln sowie mit begrenzter Personenzahl wieder gestattet sind, bringen wir Kleinstkonzerte nach draußen in unseren Gretchen-Hof - und damit unter Leute.
Um diese Freiheit haben zu können, gilt es einige wenige Regeln einzuhalten:
Die Teilnehmerzahl wird auf 30 Personen begrenzt.
Tickets nur via Vorverkauf. Keine Abendkasse.
Name, Anschrift oder E-Mail und Telefonnummer werden beim Einlass erfasst (bitte Ausweis mitbringen). Die Daten werden nach 4 Wochen gelöscht.
Bei Einlass sind die Hände der Besucher*innen zu desinfizieren.
Mund/Nasen-Schutz ist beim Einlass, auf den Wegen zum Sitzplatz, zur Bar und zur Toilette verpflichtend.
Das Personal des Gretchens ist auf ein Minimum beschränkt. Es trägt Handschuhe und Mund/Nasen-Schutz während der gesamten Dauer der Veranstaltung.
Der Getränkeverkauf erfolgt über eine Getränkestation im Hof (eingeschränkte Auswahl).
Das Konzert ist bestuhlt. Es ist ein Mindestabstand von 1,5 Metern einzuhalten. Die Sitzplätze werden entsprechend unter Einhaltung dieser Abstandsregeln großzügig im Hof aufgestellt. Es ist untersagt, die Stühle eigenständig umzustellen. Zuwiderhandlung können zu Ausschluss vom Konzert führen.
Dies gilt für alle Besucher*innen, unabhängig davon, ob sie einem gemeinsamen Haushalt angehören oder nicht.
Die Kleinstkonzerte sind ausdrücklich keine Tanzveranstaltung.
In allen Sanitär-, Gemeinschafts- und Pausenräumen wird Desinfektionsmittel zur Verfügung gestellt. Die Toiletten sind mit Papierhandtüchern ausgestattet.
Alle Bereiche werden vor und nach den Konzerten desinfiziert, ebenso das technische Equipment.
Personen mit erkennbaren Symptomen einer Atemwegsinfektion wird der Zugang verwehrt, ebenso Gästen, die nicht zur Einhaltung dieser Regeln bereit sind.
Das Hygiene- und Sicherheitskonzept liegt am Eingang zur Einsicht bereit. Zudem wird es vorab (auf Deutsch & Englisch) über alle unsere Kanäle kommuniziert (Website, Social Media und Newsletter).
Es wird vorab empfohlen, die Corona Warn App der Bundesregierung zu verwenden.
Bei Regen oder Sturm kann die Veranstaltung kurzfristig entfallen. Der Ticketpreis wird dann über die Vorverkaufsstelle erstattet.
Wir bitten Euch sehr, diese Regeln einzuhalten. Nur wenn wir alle gemeinsam an einem Strang ziehen, sind diese Art von kleinen Konzerten möglich. Bitte versaut weder den Künstler*innen, noch Euch oder uns diese Möglichkeit auf etwas Kultur.
Euer Gretchen-Team
+++++++++++++++++++++++ ENGLISH VERSION +++++++++++++++++++++++

Hygiene concept - SMALLEST CONCERTS - Open Air @ Gretchen Yard

The SARS-CoV-2 virus forces everyone to act prudently and demands to avoid physical closeness. "Social distancing" applies. This leads to extreme changes in the organization of cultural events.
Since March 2020, music venues and clubs have been closed until further notice - to prevent the pandemic from spreading.
Since open-air events are now permitted again in compliance with distance and hygiene rules and with a limited number of people, we are bringing smallest concerts outside to our Gretchen courtyard - and thus among people.
In order to have this freedom, there are a few rules to follow:
The audience is limited to 30 people.
Tickets only via advance booking. No box office. Name, email or address and telephone number are recorded at the entrance (please bring your ID). The data will be deleted after 4 weeks.
The hands of the visitors must be disinfected upon admission.
Mouth/nose protection is mandatory at the entrance, on the way to the seat, the bar and the toilet.
Gretchens staff is kept to a minimum. It wears gloves and mouth/nose protection for the entire duration of the event.
Drinks are sold at a station in the courtyard (limited selection).
The concert is seated. A minimum distance of 1.5 meters must be observed. The seats are set up generously in the yard in compliance with these distance rules. It is prohibited to move the chairs independently. Failure to do so may result in exclusion from the concert.This applies to all visitors, regardless of whether they belong to a common household or not.
The smallest concerts are expressly not a dance event.
Disinfectant is provided in all sanitary, common and break rooms. The toilets are equipped with paper towels.
All areas and also the technical equipment are disinfected before and after the concerts.
People with identifiable symptoms of a respiratory infection are denied access, as are guests who are not willing to comply with these rules.
The hygiene and safety concept is available for inspection at the entrance. It is also communicated in advance (in German & English) via all of our channels (website, social media and newsletter).
It is recommended in advance to use the federal government's Corona Warn app.
In case of rain or storm, the event can be canceled at short notice. The ticket price will then be reimbursed through the advance booking office.
Please adhere to these rules. These kind of small concerts are only possible if we all pull together. Please don't ruin this opportunity for getting some culture - neither for the artists, nor for you or us.
Yours Gretchen team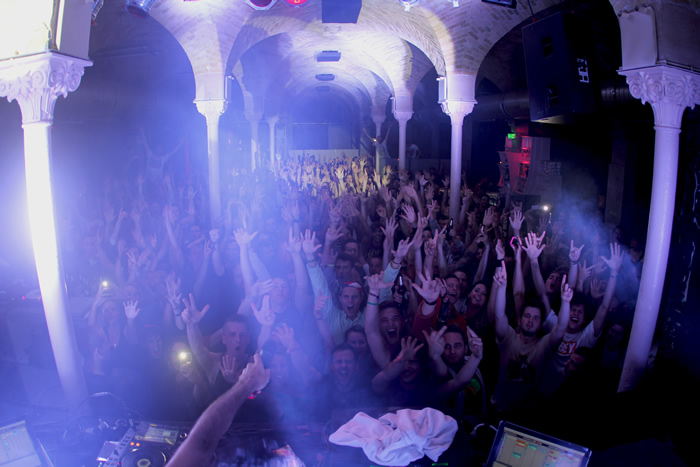 CORONA +++ TICKETS
Wegen der Corona-Pandemie müssen wir unser Programm bis auf Weiteres aussetzen. Veranstaltungen entfallen oder werden auf einen späteren Zeitraum verschoben.

Eine Übersicht über alle pandemiebedingt entfallenen bzw. verschobenen Veranstaltungen findet Ihr hier.

Tickets behalten ihre Gültigkeit oder können dort zurückgegeben werden, wo sie gekauft wurden (nicht bei uns! Alle Gelder liegen bei den Vorverkaufsstellen! Wir haben keine Gelder ausgezahlt bekommen!).
Wir haben uns gegen die Gutscheinlösung entschieden, weil wir finden, dass Ihr selbst entscheiden können sollt, ob Ihr Eure Tickets behalten möchtet oder ob Ihr sie zurückgeben müsst.

Wenn Ihr uns Euer Ticket gern spenden möchtet, dann behaltet es einfach und gebt es nicht zurück. So helft Ihr uns, unsere Fixkosten zu bezahlen, solange wir geschlossen bleiben müssen.
--------- english version ----------
Due to Corona we have to skip our program until further notice. Shows will be postponed or cancelled. We are working on new dates. Please excuse delays.

You can find an overview of all events canceled or postponed due to the pandemic here.

Tickets remain valid or can be returned where they were bought (Not through us! All money is with the presellers! We did not get any money from them!).
We did not follow the voucher-system, because it should be up to you, if you like to keep the ticket or if you need to return it.

Nevertheless: In case you like to donate your ticket, just do not give it back- Just keep it. We will recieve the money from the donated tickets a little later. This money will help to pay our bills during the club-shutdown.