Gretchen is Berlin's number one club for contemporary club music and left field beats. Just opened in October 2011, but ran by the former heads of the legendary Icon club, the club is already well-known, far beyond Berlin borders.
Gretchen stands for great sounds and high ranking international bookings. The programme reflects the complexity of current musical trends. All from Electronica, Bass, Drum'n'Bass, Dubstep, Trap, IDM, Elektro, Glitch to Experimental, Avantgarde, HipHop, Funk, Soul, Folk, Afrobeats, Jazz and Worldmusic. Quality of musical genres and artists are most important - not limited imagination, bigotry or boredom.
Gretchen represents Berlin, gives a platform to national and international artists, their labels, but also to newcomers. Gretchen is electronically to unplugged, presents DJ sets and live concerts.
Some marks:
• "In just a few years, Gretchen has developed into an absolute institution: not only in Kreuzberg, not only in Berlin - worldwide, Pamela Schobeß and Lars Döring have made a name for themselves with their unique booking." (splash! mag)
• "It feels like Gretchen at Mehringdamm has always existed forever. Half a decade appears to be little. ... Or is it that all the years of programming and enthusiasm have remained at top level? Not easy in the greedy Berlin nightlife. We pay respect to that." (zitty.de)
• AWARD "APPLAUS" 2015, 2016 and 2017 - Programming Award for independent venues of the Federal Commissioner for Culture and Media
• AWARD "Most diversified Bookig 2014" (Bln.FM)
• "Gretchen is arguably Berlin's—if not Germany's—premiere spot for electronic hip-hop and bass music." (Resident Advisor)
• "Berlin's premier club for leftfield beats." (earmilk)
• "Berlin's institution for good taste" (Splash! Mag)
• "A mekka for beatheads in Europe" (someone on facebook)
The club is located in the middle of Berlin-Kreuzberg and stands out due to beautiful vaulted ceiling and delicate columns. The venue has been the former stables of the Prussian 1st Guards Dragoon Regiment Queen Victoria of Great Britain and Ireland from 1854, so Gretchen presents itself in a historic charm combined with a cool club design.
*** The name GRETCHEN stands for purity, honesty and innocence. At the same time she is an object of desire for Goethe's Faust. But Gretchen is also perhaps the most brutal serial killer in modern literature. STRAIGHT are both at the end ... ***
++++++++++++++++++++++++++++++++++++++++++++++++++
The current HYGIENE CONCEPT for our smallest concerts in our courtyard (open air) can be found here.

++++++++++++++++++++++++++++++++++++++++++++++++++
MINIMUM AGE
Minimum age for admission at CLUBNIGHTS is 18 years (all events from 10pm or later!)! Without exception!
Age restrictions for CONCERTS or events, which end before midnight: 16 years! Generally no exceptions, no supervision forms ("Muttizettel").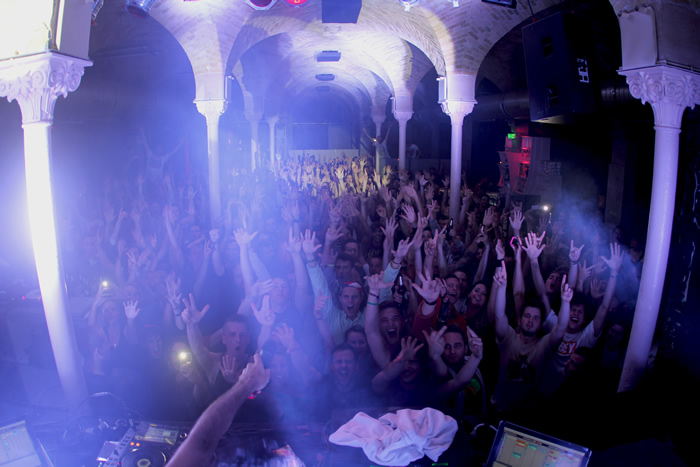 CORONA +++ TICKETS
Wegen der Corona-Pandemie sind in der Vergangenheit viele Veranstaltungen entfallen oder wurden verschoben. Nach wie vor haben wir keine Planungssicherheit. Veranstaltungen können daher kurzfristig stattfinden oder abgesagt werden. Bitte entschuldigt diese Unannehmlichkeiten.

Eine Übersicht über alle pandemiebedingt entfallenen bzw. verschobenen Veranstaltungen findet Ihr hier.

Tickets von verschobenen Veranstaltungen behalten ihre Gültigkeit oder können dort zurückgegeben werden, wo sie gekauft wurden (nicht bei uns! Alle Gelder liegen bei den Vorverkaufsstellen!).
Wir haben uns gegen die Gutscheinlösung entschieden, weil wir finden, dass Ihr selbst entscheiden können sollt, ob Ihr Eure Tickets behalten möchtet oder ob Ihr sie zurückgeben müsst.

Wenn Ihr uns Euer Ticket gern spenden möchtet, dann behaltet es einfach und gebt es nicht zurück. So helft Ihr uns, unsere Fixkosten zu bezahlen, solange wir geschlossen bleiben müssen.
--------- english version ----------
Due to Corona many events have been cancelled or postponed. Planning is still not possible. Events can take place at short notice or be cancelled. We apologize for the inconvenience.

You can find an overview of all events canceled or postponed due to the pandemic here.

Tickets of postponed shows remain valid or can be returned where they were bought (Not through us! All money is with the presellers!).
We did not follow the voucher-system, because it should be up to you, if you like to keep the ticket or if you need to return it.

Nevertheless: In case you like to donate your ticket, just do not give it back- Just keep it. We will recieve the money from the donated tickets a little later. This money will help to pay our bills during the club-shutdown.